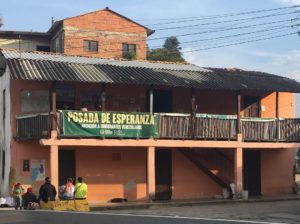 La Posada de Esperanza (Refuge of Hope), or Shelter 10, is in the tiny village of La Corcova, population less than 200. The shelter has a one-night limit and hosts around 120 Venezuelans every night. It is completely staffed by rotating volunteers from an Assemblies of God church in the nearby city, Bucaramanga, who come up for one day or night at a time.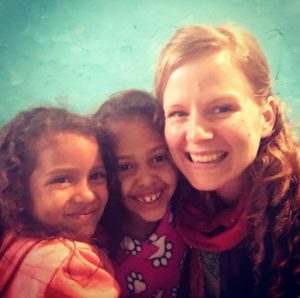 These girls have walked over 60 miles this week, but they were still giddy, giggly, and excited to learn how to play Uno while their mothers finished doing laundry.
Daily Routine at La Posada de Esperanza
4:30am – Staff rise, begin preparing breakfast: 90 eggs and 10 loaves of bread.
5:00am – Awaken Venezuelans.
5:30am – First breakfast shift. There is room (barely) for 12 chairs at each of the two tables, so they eat in groups of 24 – women and children first, then the men. With over 100 people most mornings, this can take a while.
7-8am – All Venezuelans are out of the shelter, and staff begin cleaning.
10am – On good days, we can lock the front doors and have an hour or two to rest.
12pm – Begin registering the Venezuelans who have arrived and prepare lunch – 24 pounds of rice and lentils, and 10 pounds of guava for juice.
1pm-4pm – Lunch is served to walkers as they arrive. Venezuelans who arrive before 4pm are not allowed to spend the night, but can at least eat, shower, and wash clothes before they head out again. We are at capacity every night with those who arrive after dark.
4pm – Venezuelans register and give us their IDs as collateral for a mattress and blanket.
7pm – Dinner is served, again in groups of 24. The meal consists of one bowl of oatmeal and two slices of white bread. On lucky days, there is a slice of cheese with the bread.
9-11pm – Venezuelans settle in for the night, and staff eat dinner. We selfishly hope for an uninterrupted night.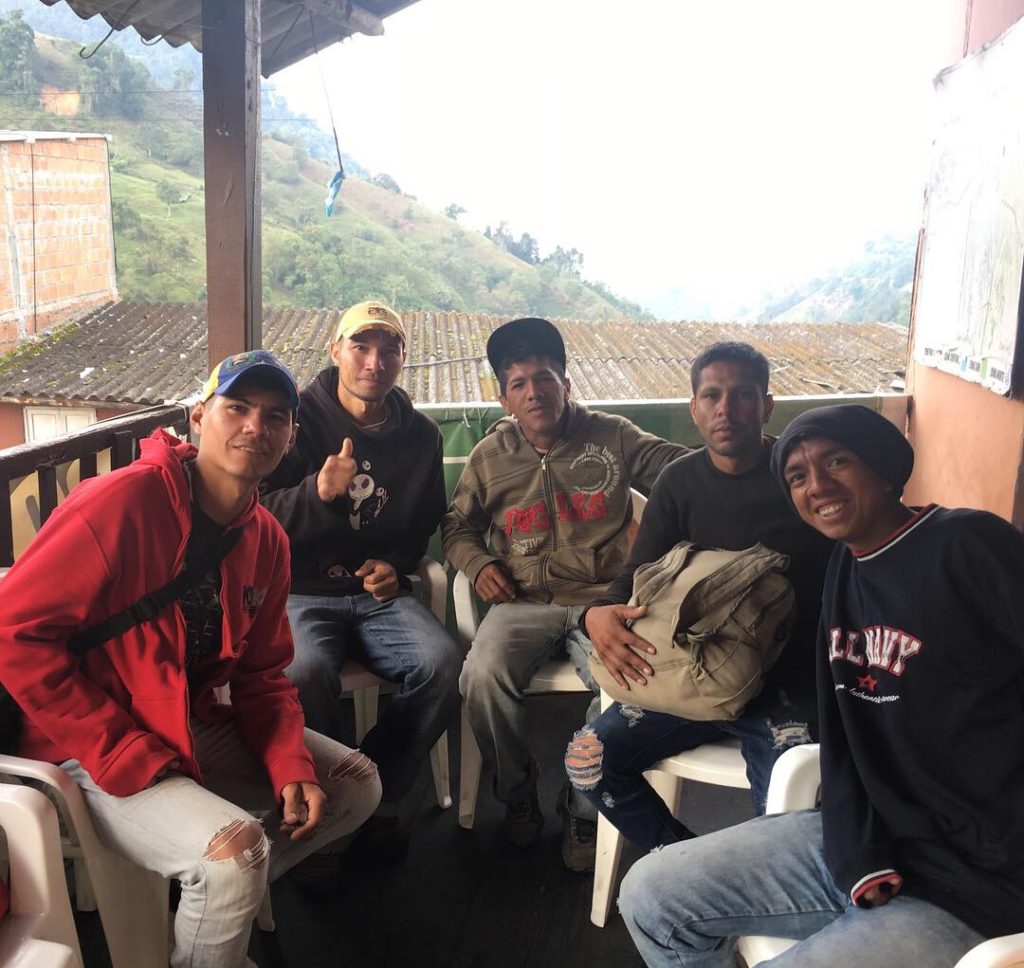 It's taken me a while to feel comfortable taking pictures of the walkers, as there were strict rules about refugee photos in Lebanon and Greece. Venezuelans, however, love having their picture taken! I get to spend a fair bit of time on this balcony every day, sitting with new arrivals and hearing their stories.
One Night at La Posada de Esperanza
At the end of my first day at La Posada de Esperanza, I was exhausted. We turned out the lights at 11pm, and I had just closed my eyes when a commotion erupted outside. Levinson and Leidy, long-time volunteers at the shelter, wearily got up and turned on the lights. "Ya llegaron. Vamos." (They're here. Let's go.)
It was a group of 50 Venezuelans, all drenched and freezing. They'd caught a ride on an uncovered produce truck and were soaked from the rain. Truck drivers tend to have more mercy on walkers when it is raining, which is great for the walkers, but can make logistics tricky for the shelters, as huge groups can arrive at once. Now, we suddenly had 50 more people to squeeze into the shelter.
The Venezuelans who were already sleeping on the ground quietly got up and moved closer together, creating space for the newcomers. No one spoke or complained. Leidy began bringing in one family at a time, directing them to this corner or that.
I'd been in Colombia for a month, but this was the first time that the harsh reality of life for the walkers hit me hard. I stood frozen in the middle of the room for a second, taking everything in, and I could've cried.
One by one the mothers stumbled into the room, numbly following instructions. A lot of them carried infants, wrapped up tightly inside their clothing to keep them dry. I took a group of toddlers to rest against the wall while we found blankets for them, and their eyes stared right through me, glazed and unregistering.
All this time, the men and teenage boys waited patiently outside, shivering in their wet clothes. Again, I couldn't believe how quiet, resigned, and complacent everyone was. This is just one part of their new normal. It also broke my heart to realize we would be waking them up again in five hours.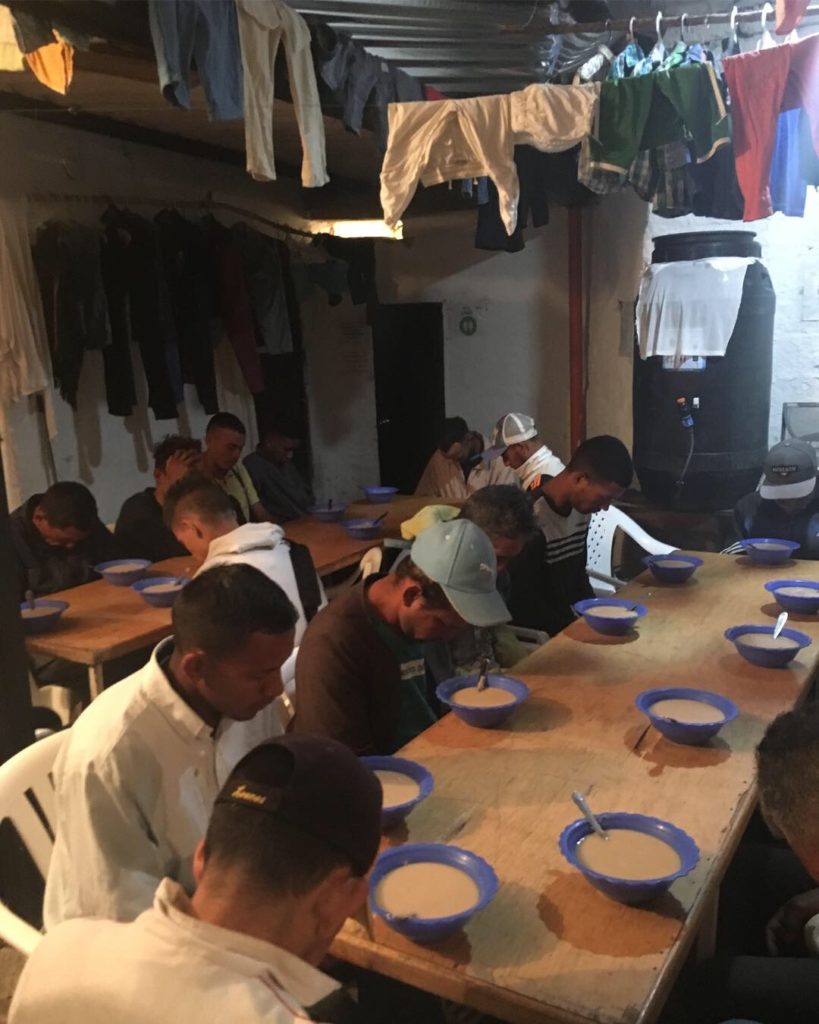 Needs of La Posada de Esperanza
La Posada de Esperanza's operating budget equals around $2000 a month. For two buildings and 300+ meals a day, this seems impossibly low by US standards. But in a country where an average university degree job pays around $400 a month – $2000 is a huge undertaking.
The shelter is providing desperately-needed support but is already at its limit. I find myself apologizing twenty times a day for all the things we can't do.
"Sorry, we don't have any socks right now. So sorry, any shoes we get are given away the same day. Sorry, we only have infant diapers. Just kidding, those are gone too. Sorry, there's no more rice."
I feel frustrated, too, when the cooks start watering down the oatmeal as more people arrive, so that the last walkers are drinking it from a cup. "Oats are cheap!" I think to myself. "Let's dump in some more!!" But they have to think of the walkers tomorrow, and next week, and next month.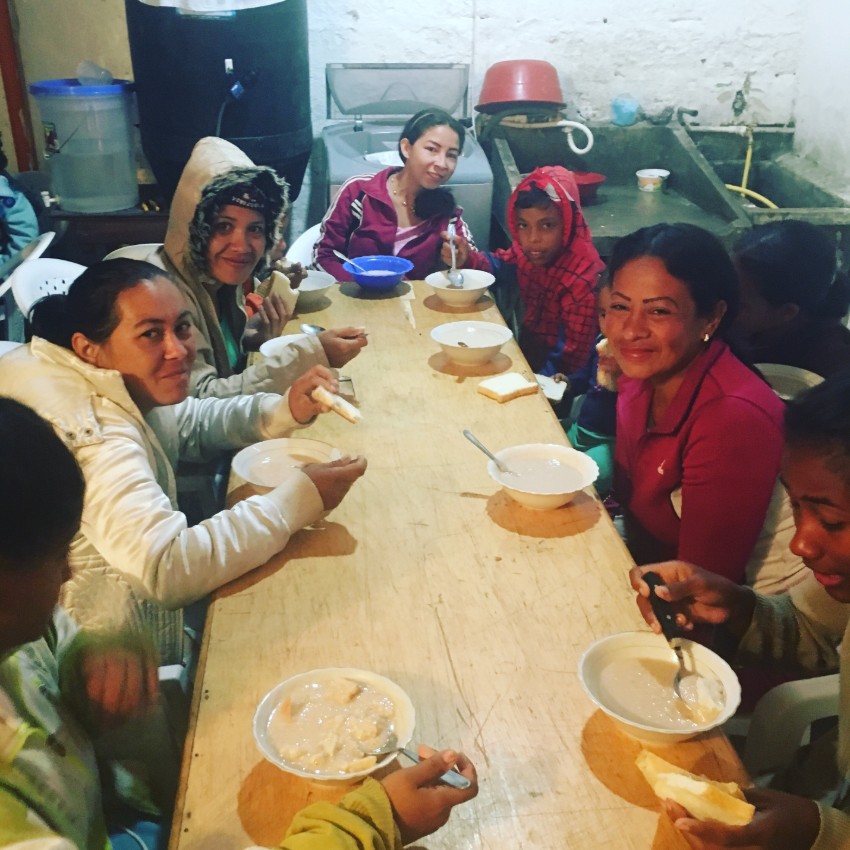 On the Ground International has committed to providing monthly financial support for Shelter 10 and seven others like it along the path from Colombia's border to the capital. You can help us make this happen! See our Projects or Give pages for more information.