My heart was so full after ten days in Pamplona with these guys. They were already working before we showed up in the morning, and worked hard all day. Also, they are pretty hilarious. Travis and Tyler's Spanish skills improved every day, and everyone got better at sign language.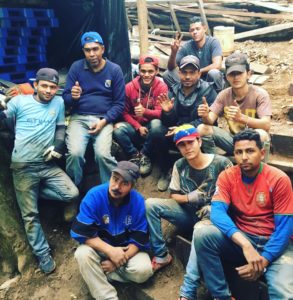 Douglas, (blue, front) and his Venezuelan crew
Before and After
The shelters aren't 100% finished yet, but still looking so much better. It's hard to believe that these are even the same places!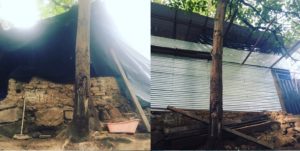 Shelter 1 – Front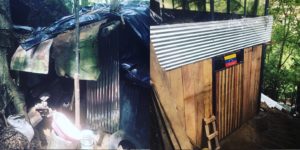 Shelter 1 – Side Entrance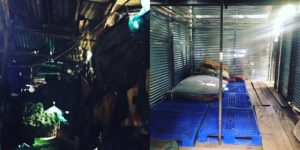 Shelter 1 – Inside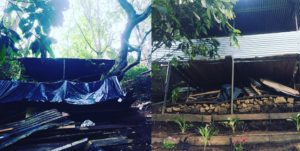 Shelter 2 – Front
The Process
I learned a lot of handy Spanish vocab – power saw, tin siding, drill bit, and all the different sizes of gravel. It was so exciting watching the buildings take shape every day.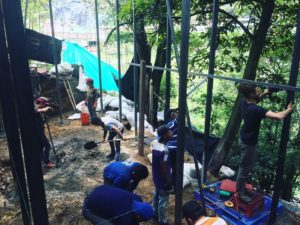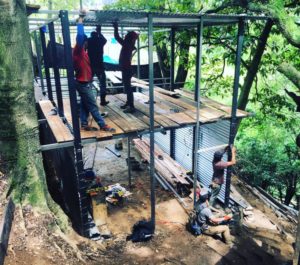 Sierra and I returned to the work site at 8:30 one night to see what was holding Tyler and Travis up, and we found ten men still digging and mixing and pouring cement by the light of a couple lanterns and cell phones. I was so touched by their dedication, and asked 

Douglas

 if we could take them out for pizza. 
We didn't get to the restaurant until around nine, but the guys were in high spirits, and hanging out with them outside of work was so fun. At the end of the evening, the mood grew more serious, and one by one they began thanking us for coming, and telling us how much it meant to them to have people they don't even know show up and take an interest in their home. Several of them mentioned how happy they were to be able to feel pride again in where they lived.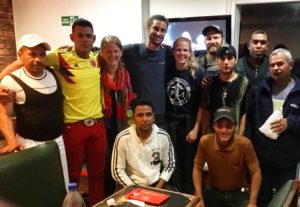 I kept up a running translation for Tyler, Sierra and Travis, until Javier started talking.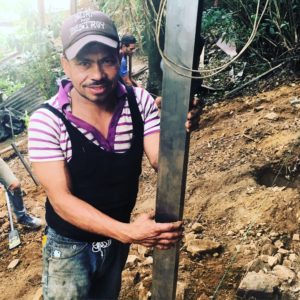 Javier is 44 years old, the oldest of the volunteers at 

Douglas

's, and worked as a contractor in Venezuela. He was very knowledgeable and a huge help on the job site. 
Javier talked about his family – his wife, three kids and four grandchildren – whom he hasn't seen in seven months, and how hard it is for him to go through every day not knowing when he will see them again and not being able to help them. "On the outside I look like a strong man, but on the inside my heart cries every day." At this point I wasn't translating anymore, I was barely keeping from crying myself. Javier concluded his story with thanking us for coming, because it was the first time he had felt hope in his seven months in Colombia – that good things can still happen in his life. 
The Gift of Pride
Human dignity is a tricky thing. While desperation has driven many Venezuelans to begging on the street, others will struggle silently, their pride keeping them from accepting help even when it is offered. 
In my mind, our focus was building a safer, cleaner, drier place, so that the walkers could be more comfortable during their one-night stays. But for the volunteers who live at the shelter, I think the greater gift was not the comfort of a clean place to sleep, but the self-respect that comes with creating something they're able to be proud of.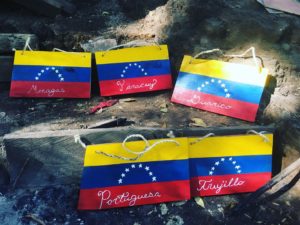 We decided the shelters needed names, so Sierra and I cut up a plank and painted signs for each shelter – Venezuelan flags with the names of the home states of the volunteers.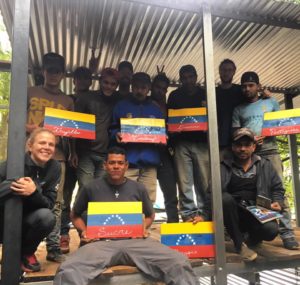 The flags were a big hit with the guys. Antonio, front, told us he is waking up happier in the morning, because he is no longer ashamed of where he lives. He can invite someone over and be excited and proud to show them what he has helped to build. This experience has driven home for me the power of self-respect.
Thank you!!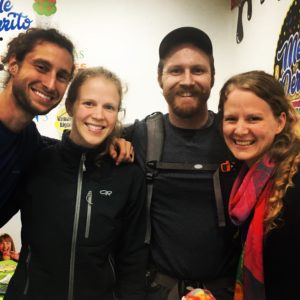 Thank you so much to Tyler, Sierra, and Travis, for giving up their vacation time and coming all the way to Colombia. Thank you to everyone who donated for building materials, we couldn't have done it without you!! 
Douglas

's hillside has six shelters. We rebuilt two of them, and I bought 

Douglas

materials to finish two more. If you would like to contribute to rebuilding the last two shelters, get in touch with me here, or check out our Give section.