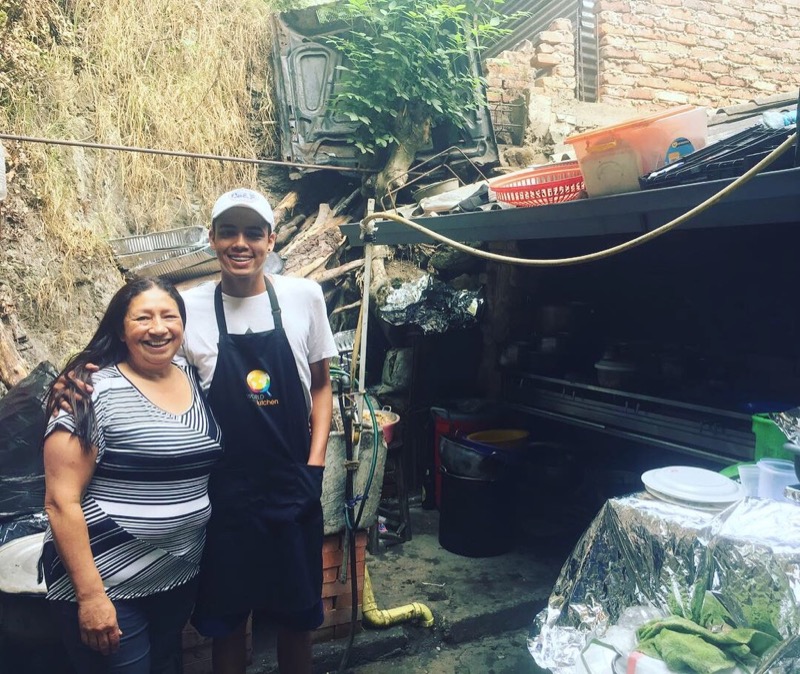 Marta Duque has lived in Pamplona her whole life.  The last few years though, scenery of her town has been changing, as every day brings a fresh wave of Venezuelan refugees – on foot. These people have lost everything in the implosion of Venezuela's society, and without even $10-$30 for a bus fare, they are walking across Colombia in search of a job and a new life, in any place where there is food to buy.
Marta's house is small, but right on highway 55, the route which the Venezuelans are walking.  Seeing this tremendous need out her front window every day, Marta could no longer do nothing. She opened her doors in January 2018, and has not missed a day of feeding and hosting walkers since. Currently, Marta and her staff of eight Venezuelan volunteers are providing over 300 meals a day, and hosting 50-60 women and children overnight.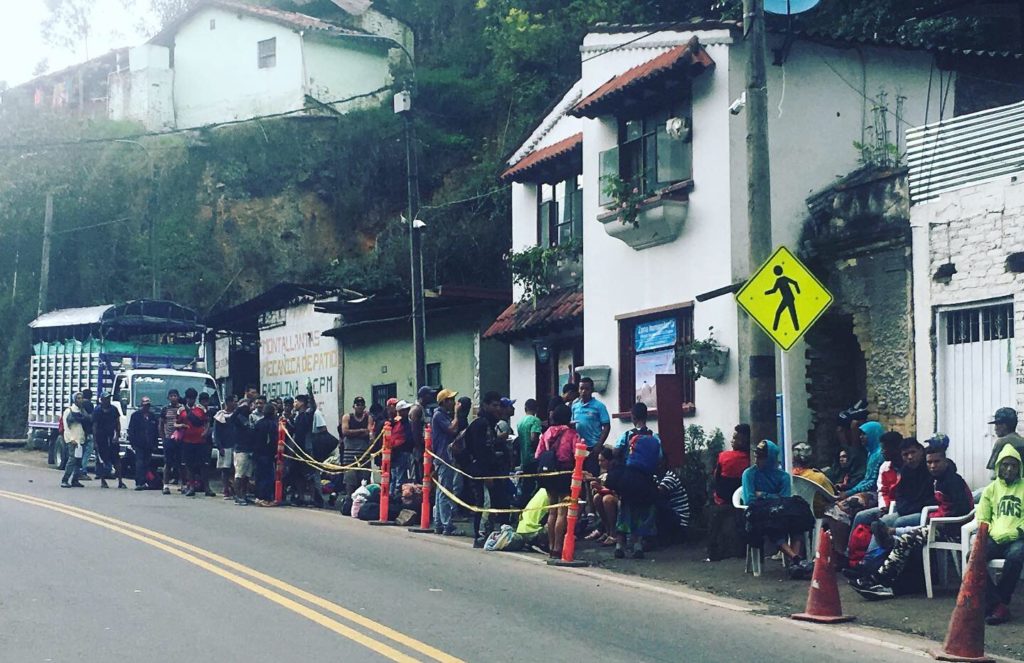 At almost any point in the day, you can walk by Marta's house and see a line like this – walkers waiting for a meal before continuing their journey.
I asked Marta how she has been able to afford to run such a large operation, and she put a hand over her heart, looking upwards. Her shelter operates completely from donations and her own limited income.
"I never know quite how we're going to buy food tomorrow. Gracias a Dios, so far we're still able. But it's not just food we must buy!" I felt humbled by my small scope of imagination as Marta began listing all the other expenses that add up quickly when you're feeding and housing so many people.
Dish soap, for the hundreds of dishes that have to be washed every single day, detergent for endless loads of laundry, electricity, toilet paper, and – the expense that tends to get cut first – cooking gas for the huge pots of rice and beans.
$60 of gas will cook 300 daily meals for about fifteen days, Marta says. When it runs out, she cooks over a fire until she has enough money to buy more. Marta was out of cooking gas the day we visited. A local man showed up with a bundle of sticks on his back, and Marta pointed. "Mira – natural gas!"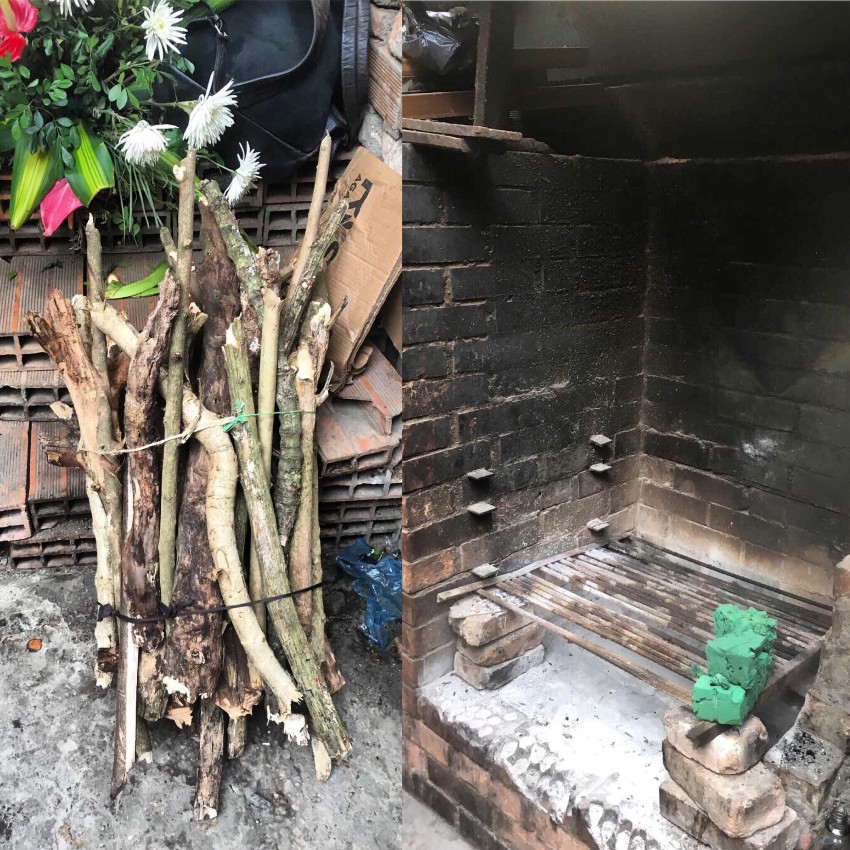 Marta's delivery of wood, and the fireplace she cooks over when they run out of gas.
Marta laughed jovially at her own joke, but mentioned several times how difficult it is to cook so much food over a wood fire. "It's hard on my lungs," she said. "But gracias a Dios, the people can eat."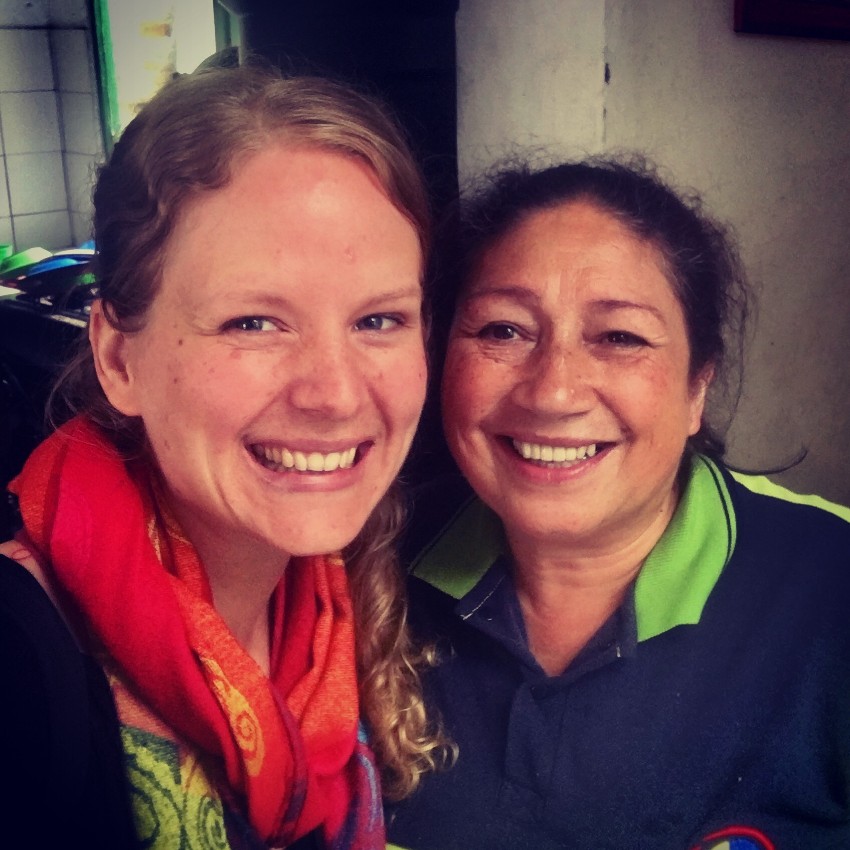 On the Ground International has committed to supporting Marta's shelter, so that she can keep her doors open, the lights on, and continue providing assistance to these people at a very vulnerable time in their lives.  Every donation has a real impact on Marta's day-to-day needs as she cares for Venezuelan refugees in her home.
Would you like to be a part of this project? Visit our Give page!