YWAM (Youth With A Mission) has several refugee support projects in Colombia, including Carpa Esperanza or "Tent Hope", located about halfway between the Venezuelan border and Pamplona. YWAM staffs this tent four days a week, offering food, clean water, a shaded place to rest, and a foot washing and blister care station. We're partnering with them to add our support during the four days they are present, and keep an aid station open at the location the other three days of the week.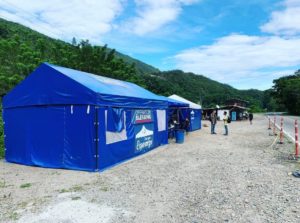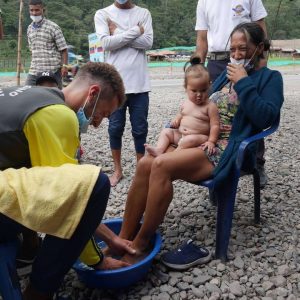 Although this aid point is around three full days' walk from the border, most people have been walking for over two weeks, traversing Venezuela by foot as they no longer can afford bus rides to the border.
The walkers' feet and shoes are often in rough shape. At the aid tent we provide foot care service where we are able to wash, tend to, treat and massage.
Often the first response is a sheepish embarrassment to show their badly worn feet. But as soon as one person takes the plunge there's soon a queue for eagerly waiting customers! Although some more sure than others…
All of these projects are only possible due to our incredible volunteers, who come from all over the world to help as they can, and also to our donors. If you would like to be a part of our work on the ground in Colombia, check out our Get Involved or Donation pages.